@AuManufacturing's editorial series – Saving through smarter energy use – looks today at the biggest of big picture Australian industrial technologies which is transforming the production of those most products most critical to our future, cement and lime. Here Peter Roberts profiles Calix Ltd.
Since building products group Adbri opened its Brighton cement works in 1882 (pictured below), inaugurating the Portland cement industry in Australia, cement and another important industrial chemical lime have been made in exactly the same way.
Limestone is crushed and screened and placed in a rotating kiln at extremely high temperatures – it is not only an exergy intensive process, but it is responsible for 10 per cent of global carbon dioxide emissions.
It is all but impossible to imagine an industrial future without cement and without lime which is used in making a wide range of products from aluminium, to steel and glass.
But back in 2015 a small technology company, Calix, modified a very different type of kiln at Bacchus Marsh in Victoria that its founders Mark Skeets and the late Connor Hawley had been using to make magnesite building products, to make lime.

Calix's technology involves heating the kiln from the outside, rather than combustion taking place inside the cement kiln, including with renewable electricity from wind and solar which the cheapest form of new power generation.
The beauty of the process is that inside the kiln carbon dioxide bubbles out of the rock and is used in carbon reduction or captured ready for conversion into other materials or to be piped away for storage.
CEO Phil Hodgson said: "We did a few lime runs in our calciner to see if we could do it.
"On our first runs we achieved about 60 to 65 per cent conversion of limestone to lime in our kiln."
By extending the length of the kiln to 35 metres long Calix achieved full conversion, and propelled it on a rapid development path which is changing cement and lime production globally, not only potentially saving energy costs with renewables, but capturing CO2 gases once vented to the atmosphere.
"We moved quite quickly once we saw the cement and lime opportunity.
"We managed to to pull together our first pilot project which was constructed in 2019, and have since put it through its paces."
Funded by the European Commission and a consortium of the world's largest cement companies, this was LEILAC-1 (main picture), Calix's Low Emissions Intensity Lime And Cement technology pilot plant.
Such was its success a full demonstration plant LEILAC-2 is now being built in Germany involving construction of a 100kTpa CO2 capture plant at a working cement plant.
This is the equivalent 100 per cent of the CO2 emissions from a large lime kiln.
"Once we go to full size we will be able to capture two thirds of the emissions of a typical cement plant – all the in-process emissions.
"Other emissions come from other areas of the plant."
In recent months Calix has announced a welter of similarly ambitious pilot projects using its calciner for everything from cement and refractory materials production, to battery materials, salt-based energy storage and, with Adbri in Australia, the production of lime (see here for @AuManufacturing's coverage).
Of course the CO2 captured has to be converted or sequestered. This is most likely to happen first in the United States where there is already a network of pipelines available and a Joe Biden imposed tax credit system for eliminating carbon.
And in Europe from 2023 there will be a tariff on imported products according to the extent of the CO2 emissions they entail. That's why Adbri, which supplies lime to the aluminium industry often destined for export to Europe, is racing to trial the Calix technology.
Said Hodgson: "Australia by default will have a price on carbon.
"Business is already moving…but we need to move quickly if we want to remain industrially competitive."
The final piece of exciting news from Calix is its involvement as a founding partner in the Heavy Industry Low-carbon Transition Cooperative Research Centre (HILT CRC).
Supported by $39 million in federal funding and more than $210 million cash and in-kind from a who's who of Australian heavy industry, the CRC will work intensively over the next decade on decarbonising industry.
Calix is already a profitable company through its magnesite products business, turning over $16 million in the latest year, but it now stands on the cusp of massive expansion as its critical technologies are adopted.
Said Hodgson: "Given the size of the problem and the size of the cement and lime industry there will probably be other technologies developed.
"If we built one of these plants every three to four days for the next 25 years, that is the scale of what we need to do to mitigate CO2 from the cement and lime industry.
"The market is just enormous."
Hodgson welcomes competition but there is no doubt its simple idea has been translated into an important – and Australian-developed – industrial technology with a bright future.
"We feel we have a great technology and a huge marketplace opening up for us.
"…and we have other ideas we want to develop."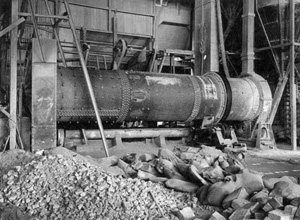 Pictures: Calix/Adbri
@AuManufacturing's editorial series – Saving through smarter energy use – is brought to you with the support of SMC Corporation.