Toyota's Hino truck division has announced a major foray into electric and hydrogen powered trucks, with Melbourne's SEA Electric set to partner in the development of a new medium sized truck.
SEA Electric manufactures electric vehicle drive trains in Melbourne and has been converting Hino truck models to electric here and in the United States.
Now the company will partner with Hino in its global Project Z which will expand its range of largely diesel trucks.

The two companies will develop a new electric class 5 truck built on a Hino chassis equipped with an electric drive system supplied by SEA Electric.
Hino will also develop a tractor-trailer powered by a Totoya hydrogen fuel cell, and other truck variants based on hydrogen and battery electric technology from Hexagon Purus and Xos Trucks.
Hino's senior vice president Glenn Ellis and SVP Glenn Ellis made the announcement, which is a major coup for SEA Electric, in a video posted to Facebook.

Ellis said on Facebook: "This is our step into zero emission vehicles – we are developing the greatest breadth of zero emission vehicles in the industry.
"Zero emission technology is coming and quickly, and we are onto it. But we do want to be looking at all the different types of technology, and the different technology leaders. "
The company plans new vehicles in class 4 to class 8 trucks and in the two major competing technologies for trucking – battery electric and hydrogen fuel cell plus battery electric drive trains.
SEA Electric CEO Tony Fairweather demonstrated his company's Hino M5 100 per cent electric vehicle (main picture, and below) which has been trialled on the US west and east coasts.
Running the SEA Drive 120 a powertrain, it is mounted on on a cab/chassis platform. The 1470Nm electric motor and 136kWh battery pack delivers range of up to 350km (220 miles), and a typical breakeven period of less than 4 years.
Fairweather said: "This is extreme performance, very quiet, great linear acceleration, great linear deceleration, and no fumes from an internal combustion engine."
He said SEA Electric had eliminated the need for a battery cooling system which adds weight and complexity to competing products as well as draining energy.
Hino trucks powered by SEA Electric have been running in service for more than one million miles in Australia, New Zealand and South-East Asia.
SEA Electric builds its power systems in Dandenong, Victoria and is constructing a new truck assembly plant at Morwell in the La Trobe Valley.
The company is working with Hino Australia developing Class 4 to class 8 products.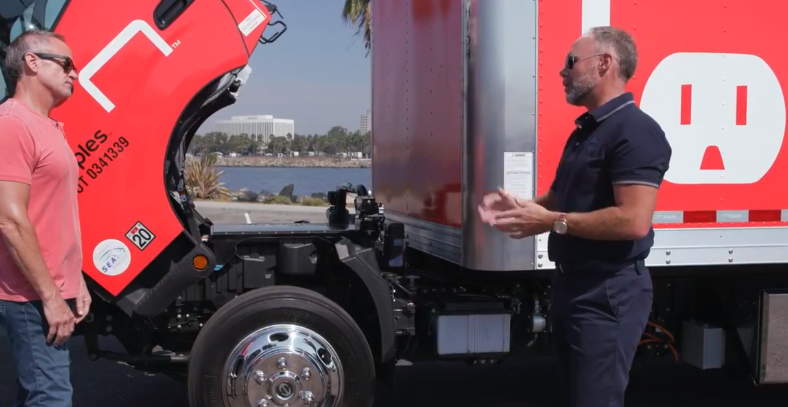 Picture: SEA Electric/Hino/Glenn Ellis left, Tony Fairweather right
Subscribe to our free @AuManufacturing newsletter here.