Australia's first producer of surgical and examination gloves critical to medicine and surgery is to be Softmed, the country's largest manufacturer of personal protection equipment.
The company has beaten the giant Ansell medical and industrial gloves group, which is Australian based but manufactures only overseas, to the punch.
Fresh from investing $30 million at a factory in Campbllefield, Melbourne, the Softmed gloves will be manufactured at a second factory in Melbourne's north, following a $70-million fitout.
Softmed General Manager Sergiy Tsimidanov said new health and safety standards sparked during the pandemic has seen demand for examination and surgical nitrile gloves rise – along with prices – and it makes sense for Softmed to expand its product range to include gloves.
Tsimidanov said: "The process of manufacturing these products is complicated, and depends on base chemicals which have become very expensive..
"Softmed has managed to secure enough of the base chemical – nitrile butadiene acrile rubber (NBR) – to produce around 2.5 billion gloves over the next 12 months.
"This will ensure we are the most cost effective glove manufacturer in the world, with the highest quality standards."
Last year, during the height of the Covid-19 pandemic, Softmed began producing millions of medical-grade face masks and respirators for the domestic and overseas market.
A few weeks ago, the company became Australia's first manufacturer of non-woven fabric-based products such as surgical and isolation gowns, caps and shoe coverings to meet the needs of the medical sector.
The business, which has already manufactured more than 120 million respirators and face masks, is a sister company of global procurement and logistics firm Forward Express
The company previously specialised in compression socks but has vowed to produce a full range of PPE.
Softmed recently obtained certification to export respirators, masks and other PPE to Europe, the US and UAE.
The gloves will comply with the AS/NZS 4011.1:24 standard (Australia) and ASTM D6319 (USA), and are being NATA tested and certified.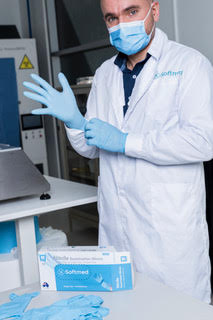 Pictures: Softmed
Subscribe to our free @AuManufacturing newsletter here.