By Andrew Spence
Strong growth in non-alcoholic grape juice products is helping a South Australian winery increase its presence in Asia.
Patritti Wines has been making wine in Adelaide's southern suburbs since 1926 but began making juice products in 1974 in reaction to the decline of the Australian wine industry and a glut of grapes.

This first release of non-alcoholic sparkling grape juice made from wine grapes was an instant hit and has remained a unique point of difference for the family-owned winery for 45 years.
Patritti increased the export focus of its wine and juice products in 2000 and non-alcoholic sales have outgrown overseas orders for its wines.
Now its sparkling grape juice is driving its success in China.

In the past 12 months it exported 203,000 cases of wine, de-alcoholised wine and sparkling fruit juice around the world.
China is Patritti's largest market for juice and wine where its Sparkling Dark Grape Juiceis its biggest seller. Other notable markets are Europe and the United Kingdom for its wine and India and Sweden for its de-alcoholised wines.
Managing Director Ines Patritti, the daughter of the winery's founder Giovanni, said the wine and juice volumes had grown hand in hand over the years but the sheer volume of sales to Asia had recently given the sparkling juice the edge.
She said packaging it like a sparkling wine and selling it through the wine supply chain rather than traditional fruit juice channels had also been a key to its success.
"The way we present it in sparkling wine packaging makes it quite a unique product as opposed to traditional juice packaging and a lot of our customers who import the juice also import wine," Patritti said.
"The juice is about access to fresh Australian fruit products in a bottle – it's fresh and they love the flavour and colour.
"They love it for celebrations – it's still got the cork and wire and it pops."
The Sparkling Dark Grape Juice is made from a blend of red wine grapes and white gordo grapes grown in South Australia's Riverland wine region, which is the largest wine grape area in Australia. The company's juice range also includes Sparkling Golden Muscatel Grape Juice, Sparkling Shiraz Grape Juice and Sparkling Apple Juice.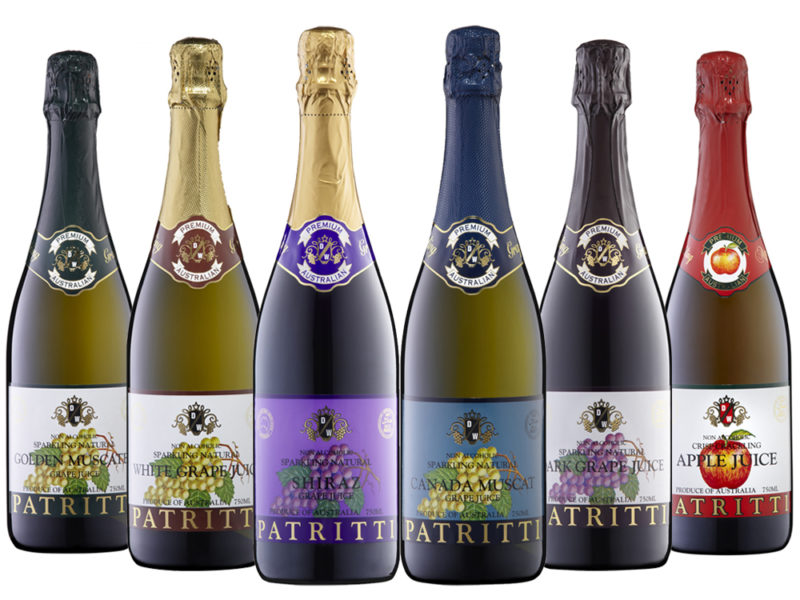 Patritti has also had some success with its sparkling and still juices in Australia and has used events such as 'Dry July' to market its products locally.
But China remains the jewel in its crown.
"They both started together in Asia but the juice brand was quite unique, particularly when we started, as opposed to the 2000 other wineries trying to sell China wine," Patritti said.
"We had the market a bit more to ourselves and that's probably why the market share in the juice grew quicker than the wine share.
"A lot of wine companies struggled with exports through the GFC but we actually grew our juice products in Asia through that whole period."
The popularity of its juice also reflects the quality of Patritti's wine with two of its reds – the 2017 Patritti Section 181 Single Vineyard Grenache and the 2016 Patritti Lot Three Single Vineyard Shiraz – recently scoring 97 out of a possible 100 points with leading Australian wine critic James Halliday. Halliday has also awarded Patritti the coveted red five-star winery status.
While its main vineyards are in the McLaren Vale wine region south of Adelaide, Patritti is also the custodian of what is believed to be the world's oldest urban commercial vineyard.
Situated about 4km from its winery, the 1907 Marion Vineyard is surrounded by housing and a public swimming pool in the southern suburbs of Adelaide, a city of 1.4 million people.
But its grapes are not feeling the squeeze of city living with the past four vintages of the Patritti Marion Vineyard Grenache Shiraz awarded 96 points by Halliday.
Figures released this week by Wine Australia show the value of global Australian wine exports grew by 4 per cent in the 12 months to June 2019 to AU$2.86 billion.
More than half of this value – $1.79 billion – was generated by exports from South Australia, the country's biggest wine producing state. The latest report showed that China is Australia's biggest wine customer, buying a record $1.2 billion worth of Australian wine in the year to June 30 ahead of the US, UK and Canada.
This article originally appeared at The Lead SA.
Subscribe to our free @AuManufacturing newsletter here.