Siren Cameras has earned $178,250 in co-investment from the Advanced Manufacturing Growth Centre as the startup prepares to establish local production for its novel dual-lens fishing camera and app.
Described as a "buoyant, dual-lens, smart fishing camera" Siren's invention captures footage of angler and fish, with an app transmitting video of the contest through wifi. The camera module is clipped over the line and is released by the fisher when there is a bite. It then travels down the line onto the water's surface.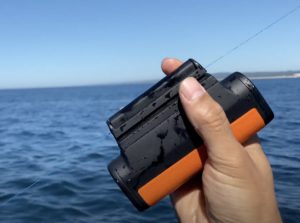 "For fifteen minutes I tussled with something, then the line snapped and of course the day was dominated by stories of the 'one that got away,'" said director and co-founder Phil West of the product's inspiration, spurring "a brainstorming session between my brother-in-law and myself about how to prove that the day's experience was more than a tall tale.
The project partners are also developing an app which is hoped will also collect meaningful amounts of data over time on fish species, GPS, water temperature, time and date. The total project is budgeted at $356,500/
"Siren's dual-lens camera is more than just a camera for a fisherman, it has the potential to support conservation efforts and generate a revenue stream beyond the initial sale by collating and selling data to manage fish stocks – it's a win for the fishermen and sustainable fisheries management alike," said Dr Jens Goennemann, managing director of AMGC.
A previous version of this article incorrectly listed the contribution from AMGC as $356,500. 
Pictures: supplied
Subscribe to our free @AuManufacturing newsletter here.