Traffic light and control systems manufacturer Traffic Technologies has won a $900,000 order from Ausgrid to supply 5,000 'smart city ready' LED street lights in New South Wales.
The order, of so called P and V or pedestrian and vehicle category lights, will join 250,000 street and road lights owned by Ausgrid.
Of the 2.3 million street lights in Australia around 20 per cent have been converted to LED technology which consumes less power per wattage output, saving energy costs and cutting CO2 emissions.
Street lighting is the largest source of carbon emissions from local governments accounting for up to 60 per cent of their pollution.

Traffic Technologies managing director Con Liosatos said: ":The award of this order follows on from the company's recent success in supplying LED street lights for use by state road authorities and local councils across the eastern states of Australia."
Traffic Technologies supplies a wide range of systems from traffic lights and illuminated road signage to intelligent transport systems, traffic controllers and defence signage.
The company's Aldridge Traffic Systems subsidiary develops and manufactures lighting including LED systems (below) at Rhodes in Sydney.
The company has offices in the UK and also exports to Ireland, Denmark, France, Spain, Singapore, Malaysia, Thailand, Sri Lanka, India, New Zealand, USA, North America, South America, Canada and UAE.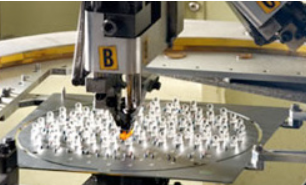 Picture: Traffic Technologies/h-LED roadway illuminator
Subscribe to our free @AuManufacturing newsletter here.