Australian wine exports dropped 30 per cent in value to $2.03 billion and in volume by 17 per cent to 619 million litres in the year ended December 2021, according to Wine Australia's latest Export Report.
The decline reflects tough market conditions with deposit tariffs imposed on bottled Australian wine imported to China, the impact of a global freight crisis, and depressed demand after Covid-19 stockpiling in the first year of the pandemic.
China saw the biggest falls.
Exports to mainland China declined by 97 per cent in value to $29 million and by 93 per cent in volume to 6.4 million litres, a loss of nearly $1 billion in value in the previous year before China imposed tariffs on our wine.
Wine Australia's Rachel Triggs said: "The 2021 calendar year represents the first full 12-month period since very high deposit tariffs on Australian wine imported to China were imposed, and the global impact of the challenging operating environment can now be observed in full.
"Because the export figures are compared to the prior 12-months, we'll keep seeing significant differences in the year-to-date export figures as a result of the deposit tariffs until the end of 2022."
However, exports excluding mainland China increased by 7 per cent in value to $2 billion and decreased by 6 per cent in volume to 613 million litres.
This is the first time that exports excluding mainland China have reached $2 billion for a calendar year since 2009.
The markets with the largest increase in value of Australian wine exports were Singapore (up 108 per cent to $166 million), Hong Kong (up 45 per cent to $191 million), South Korea (up 74 per cent to $47 million), Taiwan (up 65 per cent to $31 million) and Thailand (up 31 per cent to $28 million).
Exports valued at above $10 per litre FOB increased in value by 49 per cent when excluding mainland China, giving positive signs that demand for products which would previously have been exported to China is emerging in other markets.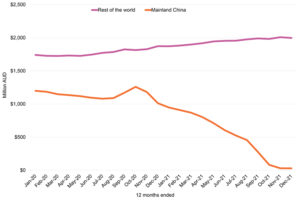 Picture: southaustralia.com/Wine Australia 2021 sales
Subscribe to our free @AuManufacturing newsletter here.