Work is well underway on the Osborne north shipyard (pictured) that will build 12 Attack class submarines on the banks of the Port River in Adelaide, part of a $1 billion investment in the site.
Managing Contractor, Laing O'Rourke is progressing on Phase 1 of the project with foundation works, structural steel and the erection of precast panels for four land-based facilities underway.
Laing O'Rourke will build Phase one of the project for government-owned Australian Naval Infrastructure.

This includes a Combat System Physical Integration Facility and a Platform Land-Based Testing Facility (PLBTF).
Phase 2 is still in the planning and design phase.
The progress comes as the last of the new facilities at the $535 million Osborne south yard (below) which will build Hunter class frigates have now been handed over to BAE Systems subsidiary, ASC Shipbuilding.
The facilities include the massive Block Consolidation and Ship Assembly Hall which is 187 metres long, 87.4 metres wide and 50 metres high.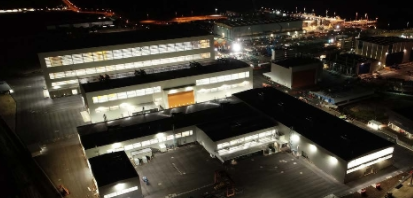 Picture: Australian Naval Infrastructure
Subscribe to our free @AuManufacturing newsletter here.