In today's addition to our 'Working smarter with data' series, Dr Nishar Hameed explains Australian work on smart sensing, and future applications for a new class of materials enabling this.
Fibre-reinforced composites are known to provide superior lightweight and structural solutions, making their use critical in a range of applications. In many applications, whether in aerospace or automotive, these materials constantly operate under frequent physical, climatic and environmental conditions. As such, composites suffer from defects and damage that cannot be always detected by visual inspection. It is critical that these defects need to be monitored and identified in a timely manner to avoid catastrophic structural failures.
The Smart Materials research team I lead at Swinburne University of Technology recently developed all-new, scalable, graphene-integrated smart composite materials with multifunctional applications. 'Proof of concept' smart glass fibre and carbon fibre reinforced composites were developed using the low-cost graphene-integrated polymer or fibre technology and composite manufacturing techniques.

Smart sensing is possible through the addition of graphene nanoplatelets into composites, providing a conductive network for signal propagation. This practice creates multiple functionalities, such as in-built sensing, radiation shielding, energy storage, performance monitoring and information processing, on top of improved mechanical performance. The ability to create and provide these new-generation materials will enable advances in the areas of building infrastructure, clean technologies and mass transport.
The capability to produce smart composites has been a key stretch goal for industries for some time. Although a few researchers and composites fabricators have made some advances, insufficient research has been done to confidently apply this new technology into structural parts. 
In collaboration with Imagine Intelligent Materials, our team designed and conceived the idea of graphene-enabled smart composites. These composites, fabricated using Imagine's bulk graphene dispersions uniformly coated on to glass fibre fabrics, demonstrated reliable and consistent sensing responses to deformation and impact damage. 
This new class of smart and functional materials can be integrated with off-the-shelf electronics, coupled with software and data analytics to provide platforms that give real-time structural health monitoring and predictive maintenance.
Our research has demonstrated multiple functionalities in these smart composite materials. Our idea is to enable materials to communicate, or in other words make them smart and intelligent. 
Mass transport, building infrastructure and defence sectors demand the next generation of materials to be multifunctional. Such materials are not just mechanically strong or lightweight but perform additional duties such as response to stimuli, including impact or fire, and communicate that response in real time so that there can be timely mitigation of issues without additional cost or down time.
These types of smart functionalities are critical for large composite structures such as wind turbine blades, where majority of them are located in remote mountainous or rough sea regions, and need of large cranes, forklifts and sky workers, adding even more risks and challenges to the task of routine inspection, maintenance and repair, and often leading to fatal accidents. 
In another partnership project, Swinburne, Imagine and DMTC Ltd, teamed up to develop efficient graphene coatings and multifunctional carbon fibre composites with superior thermal and electrical conductivity, demonstrating highly-efficient radiation shielding properties. 
A video demonstrating the scalable smart carbon fibre composites is below
Video 1. Novel hybrid graphene-based multi-scale composites can deliver advances in sensing, electromagnetic and thermal signature control for applications in the defence domain (DMTC Ltd).
Electromagnetic interference (EMI) shielding is critical in aerospace and defence and in many other industries to prevent EMI from affecting sensitive electronics such as portable electronic devices and integrated circuits. Metallic mesh shields are often used to protect one component from affecting another inside a device. Such shielding has traditionally been made from metallic meshes, and poses significant weight and cost problems. Recent research breakthroughs demonstrated graphene-based coatings are several times higher in EMI shielding effectiveness compared to traditional metallic meshes. 
In particular, defence platforms are designed with compact, high-power electronics units used very close together, which are sometimes developed by different manufacturers. EMI from electronic devices and components can result in a variety of negative consequences, such as causing safety- and mission-critical systems to malfunction. There is thus an ever-increasing need to shield safety- and mission-critical systems from EMI through the development of radar absorbing structures.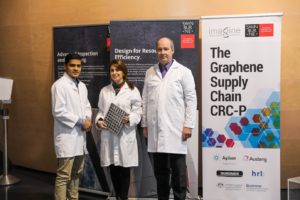 Shielding is mainly dependent on absorption and reflection losses, which in turn depend on electrical conductivity, permittivity and permeability of the material. Optimised combinations of graphene together with ferromagnetic particles in a coating formulation demonstrates a unique paintable EMI shielding technology. This coating can be applied to flexible or rigid substrates as well as uneven surfaces by using conventional spray or brushing techniques and can be air-dried or high temperature cured. 
We have developed epoxy-based graphene formulations that are optimised to use as a coating material and also as the matrix for fibre reinforced composites. These composite materials possess enhanced thermal and electrical conductivities and thus demonstrate efficient de-icing, lighting strike protection and inductive heating properties. 
The research is supported by world-class research and infrastructure initiatives such as Swinburne's Graphene Certification Labs, Factory of the Future and ARC Training Centre in Surface Engineering for Advanced Materials (ARC SEAM). We are bringing together capabilities and expertise from many different areas, ultimately to address manufacturing challenges for Australian industries.
For more details, contact – Dr Nishar Hameed ([email protected])
Nishar Hameed is ARC DECRA Fellow and Senior Research Fellow at Swinburne University's Factory of the Future.
@AuManufacturing's series is brought to you with the support of Fusion5, the largest 5-Star NetSuite Partner in Australia & New Zealand, providing full-featured cloud business management software solutions.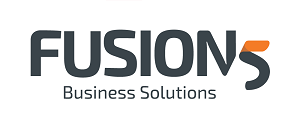 Subscribe to our free @AuManufacturing newsletter here.