A new unmanned aerial vehicle, designed to fly up to 800 kilometres and carry a payload of up to 160 kilograms, was the major bit of news on day one of the Avalon International Airshow. Brent Balinski spoke to Kisa Christensen, Director – Red Ochre Autonomy & Sensors at BAE Systems Australia, after the unveiling of STRIX.
@AuManufacturing: First of all, how did this project not leak? A story on the ABC this morning is the only thing I've seen ahead of the announcement.
Kisa Christensen: It was very tightly held, even internally in the company. But now we can talk about it openly, and I'm excited about that.

@AuManufacturing: Please share something of your background for those who don't know you.
Kisa Christensen: I started my career as an aerospace engineer, but even before that I wanted to be an astronaut. I got my pilot licence before my driver's licence. Planes were always in my blood. I got my aerospace engineering degree, and worked at NASA for a little bit. Moved to Australia in 2001 and worked on the Eurofighter Typhoon, the Joint Strike Fighter F-35b program, the Boeing 787 Dreamliner program, and then did a little bit of a foray into tanks. I was working on LAND 400 Phase 2, the replacement for the ASLAVs for the army. Then came to BAE.
@AuManufacturing: If I heard correctly it was only June 2022 when STRIX began as a blank bit of whiteboard. Were you in the room with that particular whiteboard?

Kisa Christensen: July 2022.
@AuManufacturing: Excuse me.
Kisa Christensen: I wasn't in the room, but the team was. I think the brilliant part about that was we've got some incredible engineers, really clever people, and it was about giving them some really clear guidelines – we need to work within these boundaries, but be creative. And there was lots of creativity in the air and lots of concepts were put forward and we were continually going back and challenging the team. And we ended up with something pretty incredible.
@AuManufacturing: For me this is one of those career-defining moments that probably comes around once or twice if you're lucky. I feel privileged and honoured and proud of the team as well.
@AuManufacturing: How did you end up at a hybrid EVTOL craft?
Kisa Christensen: We wanted something that has the best of both worlds. The VTOL capability is really important, obviously, for airfield independence and being able to take off from the back of a ship. That flexibility was really important. The electric motors give the boost to be able to do that. But the hybrid propulsion system – when it transitions into conventional flight – allows us to get the range and endurance. So we can keep up with rotary-winged assets, so helicopters. The maximum speed is spot on for that. And then the payload is pretty impressive as well. And that's achieved with that hybrid question.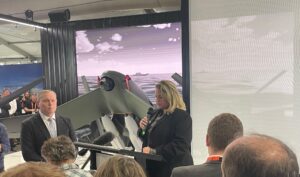 The first flight is going to be Q4 this year.
@AuManufacturing: Will that be at Woomera?
Kisa Christensen: We haven't picked a location yet. We've had a few offers already of locations, so watch this space.
@AuManufacturing: What would you say about the heritage of this vehicle in previous autonomy projects such as Nulka and Mantis and other autonomous systems?
Kisa Christensen: The decades of experience in autonomous systems in all domains is absolutely key to us being able to produce this at pace. Coming up with this concept and all of the horsepower behind that – the team has been working through this for decades. So it's experience on multiple systems, multiple platforms, multiple domains, which has given us a really solid foundation to move quickly into the next offering.
@AuManufacturing: As with any secret, the more people involved the harder it is to keep under wraps. How many were involved in this well-kept secret?
Kisa Christensen: There were quite a few dozen people involved in this, and it was very tightly held, and I think we did a good job of keeping it quiet – even using code names within the company. I'm just happy to be able to talk about it openly with suppliers, the rest of BAE and others.
@AuManufacturing: In the speech earlier you mentioned that as an aerospace engineer this was a particularly appealing project. What stands out given your background?
Kisa Christensen: Someone mentioned earlier today that it's nice and simple. When you're designing something from scratch that simplicity is really ahrd to nail, but when you've created something that looks right and behaves right in reality, that's actually really hard to do.
@AuManufacturing: So elegance?
Kisa Christensen: Elegance, simplicity, and the fact that it is the best of both worlds is quite genius. I couldn't be prouder of the team. We came up with all sorts of concepts but landed on something pretty unique.
@AuManufacturing: What's Innovaero's role and yours and how were these split up?
Kisa Christensen: It was highly collaborative and we were truly one team. They have that experience in rapid prototyping and aerostructures and have developed other UAVs in their own right. The combination of our pedigree in autonomous systems, their experience in rapid prototyping of UAVs were a match made in heaven.
@AuManufacturing: The words "loyal wingman" were in the media release and of course that will call up a certain program for some folks. Of course you're not going to say you're trying to eat Boeing's lunch. What do you say?
Kisa Christensen: [Laughs] No. Completely different platforms, completely different mission sets and concepts of operation. When we say loyal wingman in regards to Strix, we're talking about loyal wingman to a rotary winged asset, so helicopters. And that's the difference. Obviously Boeing is loyal wingman to fast jets. This is for rotary assets. And different payloads, completely different CONOPS, the vertical takeoff and landing. Very, very different.
@AuManufacturing: What will the opportunities be for SMEs to participate in this program?
Kisa Christensen: This is an Australian designed, developed and built platform. And absolutely we're looking to build that ecosystem of Australian suppliers to support production of this vehicle. We will be running events and our supply chain team is incredible at getting suppliers on board. And the goal is that we're going to be exporting these out of Australia as well. The opportunity to be part of a global program is pretty exciting.
@AuManufacturing: And you are in talks with two nations if I heard directly about exports?
Kisa Christensen: I've been given the remit that I'm to look at global market needs, not just Australia. And we've got people in the UK and looking across Europe and Asia and it's going to be not just two other export markets.
@AuManufacturing: What are some things that have to happen before 2026, when you plan to have the Strix in operation?
Kisa Christensen: We've got the first flight in Q4 this year. We're gong to be doing further test flights next year with the hybrid propulsion system. Really it's proving the platform. And there is an opportunity to accelerate towards that ready for deployability date, we can accelerate with funding, but at the moment it's completely an internally-funded program. It could be sooner if we had customer funding.
@AuManufacturing: Lastly, people will naturally be curious about the war in Ukraine and how it has informed this project. What would you say?
Kisa Christensen: The key thing is that this platform was designed with affordability in mind, so that's a key feature. From what we've learned from the Ukraine I think there was a Royal United Services Institute statistic that 90 per cent of UAVs used were destroyed. 
So for us the attritability is really important, but how this platform is used is really up to the customers. It's not our decision.
And there's nothing on the market like this at the moment. With this there's vertical takeoff and landing, long-range, big payloads, really good endurance and speed to be able to keep up with helicopters.
This interview has been lightly edited for clarity.
Main picture: credit BAE Systems Australia
Further reading
BAE SYSTEMS DEVELOPS NEW SOVEREIGN DRONE AND GUIDED MISSILE
DEFENCE MOVES INTO AUTONOMOUS OVERDRIVE
BAE SYSTEMS LAUNCHES RED OCHRE LABS TO SUPPORT FRIGATE INNOVATION
LOYAL WINGMAN NOW KNOWN AS MQ-28A GHOST BAT