One-piece composite wheel manufacturer Carbon Revolution has marked the sale of its 50,000th wheel.
Carbon Revolution began in 2007 and offered its first wheels to the public in 2009. As reported by @AuManufacturing last month, it is currently commissioning its Industry 4.0-based, higher-throughput "Mega-Line", with plans to inaugurate it this calendar year.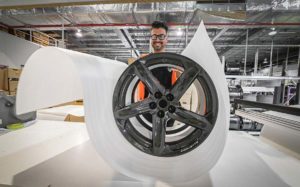 In a statement on their milestone, released on Thursday, the company said production had evolved over the years from bespoke and handmade to highly-automated and "governed by big data and machine learning."
The next 50,000th units – following a rear wheel for a Corvette Z06 that came off the line this week –  would be sold at an "exponentially greater rate" than the first 50,000, Carbon Revolution said.

"Reaching this number is only just the beginning for us. We are scaling up even further as we commission our Mega-Line and sign on new OEM programs," said CEO Jake Dingle.
The company currently has six programs in production with three global OEMs.  Another nine are in development – four for electric vehicles.
Carbon Revolution is the maker of the world's first one-piece carbon fibre wheel, and has its origins in a Deakin University Formula SAE project in 2004. It manufactures at Deakin University's Waurn Ponds campus.
Carbon fibre-based wheels are lighter than aluminium alloys, and offer improvements in road handling, responsiveness when braking and elsewhere.
Pictures: Carbon Revolution
Subscribe to our free @AuManufacturing newsletter here.