The first story in our second Celebrating Australian Made editorial series is EFC Manufacturing Co, the maker of an Australian invention which has been keeping garments fuzz-free for decades. By Brent Balinski.
The Eezy Fabric Comb has been tidying up clothing, lounges and more since the 1970s, with millions sold here and abroad. According to its owner, they have never made the exact same product twice.
Quality is one thing, and a very important one. There's also a charm to handmade goods that are, like proverbial snowflakes, each a little different. 

Jo Murphy, the third owner of EFC Manufacturing Co, recalls contract engineer Rob – who assembles and lacquers for the company out of his shed in Nunawading – being told about a bit of rust on a returned comb.
Variations? Sure. Rust? Impossible.
"He was saying – in his words – 'Oh, my fat fingers have rubbed a bit of wax on the brass teeth. So it looks like it's rusted,'" Murphy tells @AuManufacturing. 

"He would say he's clumsy. So that's sort of part of the charm.
"They're the best quality, they'll last forever, and no two are the same. Grandpa's made it in his shed, and it's made with integrity and honesty." 
Murphy is the sole employee at EFC, with a team of nine little Australian operations like Rob's in its supply chain.
Before that she had a career as a stylist and in product developing and buying in the clothing industry.
Murphy and her mother both had cancer scares in 2017, prompting her to quit her then-job. After positive health news for both, Murphy started working from home on a fashion blog. 
For an article idea, Murphy thought back to a fabric comb she noticed in a counter box at a Laura Ashley store in Melbourne  roughly two decades ago.
"I've still got that comb," she says proudly. (Pictured below.)
"I was buying them left, right, and centre for my family and friends."
"I thought, 'Oh, wouldn't it be nice to have an interview?' … [owner] Rex [McCleod] said he was 84, he'd just been widowed, and he was wanting to close the business or sell it."
Murphy has owned the company since May 2019.
She describes the last three years as spent treading slowly and carefully, figuring out where the company fits in the market, who the market is, how to price accordingly, and what the message should be.
EFC makes two products. The pocket-sized Eezy Fabric Comb is designed to delicately remove fuzz balls, pilling, lint and other annoyances from clothing without damaging yarn. There is also a larger comb, the Super Eezy Fabric Comb, which is larger, has larger teeth and a wooden handle, and can be used for lounges, rugs, larger knits and carpets.
The wooden handles are created by a manufacturer in Sydney from Australian or New Zealand pine.
Sets of brass teeth are cut at an engineering firm in Braeside in the two different sizes, in batches of a few thousand at a time. 
Plastic handles are made out Dandenong way.
Handles and teeth for the smaller brushes are put together by a retired couple in a backyard in Wantirna, at a rate of "a few a day", with the bigger sets assembled by Rob in Nunawading, "sort of 300 at a time." The grandpa in his shed also bends steel for the handles and has these nickel-plated. Ferrules for the neck of the handle are made at a separate workshop.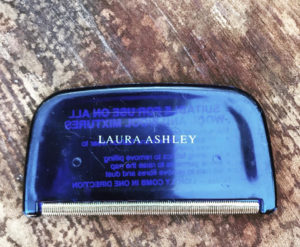 Murphy describes it as "micro-manufacturing" currently, and estimates about 20,000 smaller combs and 3,000 larger ones produced a year, with the market for the latter growing strongly.
She has introduced starter packs combining both kinds of combs, and says that customer feedback suggests interest in a wider comb or a longer handle.
Murphy says the wholesale market for drycleaners – where the Super Eezy was originally sold – has shrunk for international customers in recent years. She believes there is good potential to increase sales among retailers – with combs branded with EFC on one side and the retailer's logo on the other – as well as through online sales directly to the customer.
Now a half-century old, the company is likely to stick to its messaging on reliability and durability, combined with the artisanal. 
"I don't like perfect things, so I probably should add on the website: if you want every product to be the same, out of a factory line, we're not the people for you," suggests Murphy. 
"If you want a tool that will last a lifetime, and that feels like your grandfather made it, and you'll hand it down to your kids, your grandkids, then we're the we're the product that you buy. You invest a little bit more, and then you only buy it once. And I like the charm of no two of them are the same." 
Pictures: www.instagram.com/theoriginalfabriccomb

@AuManufacturing's editorial series – Celebrating Australian Made – is brought to you with the support of the Australian Made Campaign Ltd, licensor of the Australian Made logo. For more information about using the logo, visit this link.
Subscribe to our free @AuManufacturing newsletter here.