Today our editorial series Marketing for manufacturers celebrates the art of selling ice to Eskimos. Here Peter Roberts profiles the company that sells Australian manufactured mattresses to China.
The pictures say it all really.
At left, below is an Australian-made AH Beard Signature Series mattress sitting in one of the company's 50 showrooms in China, this one in Shanghai. At right, the selling price – around $75,000 for a mattress alone.

Whenever the claim is made than an Australian manufactured everyday item can sell for such a figure it is met with scepticism and disbelief, according to Beard's CEO Tony Pearson (main picture).
"When I mention the price, I am often asked to repeat it," Pearson said.
"But once you go through and explain the value that goes into an AH Beard bed a level of awareness creeps in….then it's more the fact that there is a demand in China for a $75,000 mattress that blows people away."

The company set itself on a course that would lead to the $75,000 mattress when it realised there was no future for an Australian company that competed on price – the only choice was to compete on value and product differentiation, and by giving customers what they wanted.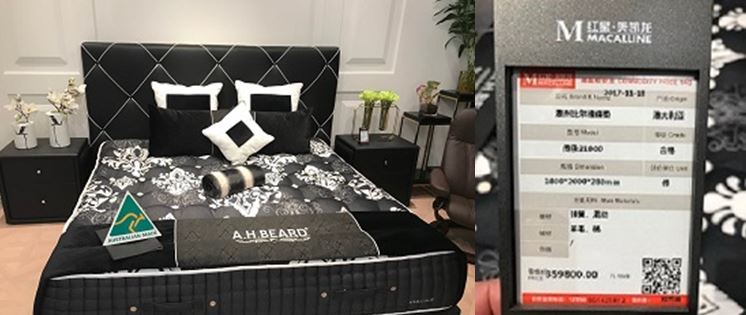 Improving Lives Through Better Sleep
The company has just repeated the careful research it first undertook with Roy Morgan Research and the company's brand strategist to understand what people value in a bed.
People want something that is comfortable – a subjective assessment perhaps – but that led to the company's mantra – Improving Lives Through Better Sleep – and all that goes into the design and manufacturing process to deliver that.
This starts with the core support system, usually coil springing, that gives correct support to the different areas of the spine during sleep so it is not in distress – 'when you are sleeping you are functionally paralysed'.
Then there is the comfort layer to disperse pressure and the quality of the materials and components that help maintain optimum body temperature, are breathable or provide anti-microbial characteristics. Finally there is the construction method.
Pearson said: "Very few people have an understanding of what I call the rectangular box, the mattress.
"They don't understand the link between sleep and wellness, and the mattress and how you sleep is an important area of wellness for us all."
Manufacturing
Family-owned Beard is the second largest manufacturer in Australia, offering more than 4,000 product variations under its King Koil, Domino and AH Beard brands.
But it is the only company that is globalising its businesses. As well as 50 of its own shops in China, Beard bed technology is increasingly being licensed to manufacturers overseas in much the same way that American company Sealy licenses its technology to me made in Australia.
"With the exception of the Signature Series there is typically between three and five days between customer order and manufacture.
"If you order a Beard bed at 10.00am on Monday, it is made on Wednesday or Thursday.
"We don't build to stock, we absolutely maintain a just in time system."
Four master craftsmen take about 10 days to produce a Signature Series mattress.
This is because of labour intensive processes such as hand tufting and traditional sewing, the exotic materials used such as Alpaca, merino wool, silk and cashmere, and the layers of more than 20,000 coil springs and micro-coils that go into each mattress.
"Many people haven't experienced high quality comfort before except in a top hotel….and we are one of the largest suppliers to the hotel industry."
The company is also the only one in Australia to make mattresses to order – so if you want a few more rows of coils to sleep a very tall person, Beard will make it for you.
The China effect
At first glance Beard brand (below) is curiously simple and old fashioned but this, and the green and gold Australian Made logo, go down particularly well in China.
"AH Beard is seen as a genuinely family business, and its 117 year old lineage and heritage is synonymous with the brand.
"And there is a level of appreciation that comes with accreditation in Australia.
"Our products are seen as clean, honest and authentic…it means something to the Chinese."
Pictures: AH Beard/Tony Pearson/the $70,000 mattress on display in Shanghai/the price tag/the barnd

@AuManufacturing's Marketing for manufacturers series is brought to you through

the support of Whyte Public Relations and the Advanced Manufacturing Growth Centre.
Subscribe to our free @AuManufacturing newsletter here.