Our editorial series Marketing for manufacturers looks at a marketing success story – BlueScope steel's Colorbond. We talk to Antony Schillaci (pictured below), Group Marketing Manager.
@AuManufacturing: Colorbond is one of the great success stories of manufacturing marketing. Colorbond is widely seen to be a luxury, high-end product associated with excellent architecture in Australia, whereas coated steel in other countries is seen as a commodity. How is this achieved?
Schillaci: If you think of the elements of a brand pyramid, whilst the Colorbond steel brand personality may have been reimagined throughout its history, the stated brand essence has remained true since the start. We keep the brand essence quite close to our chests!
There have always been functional and emotional elements to our marketing strategies for the brand, but how they are played out in the market depends very heavily on the research we do as part of strategic brand planning cycle.
One execution element has remained constant throughout the life of the Colorbond steel brand and that is to provide aspiration and inspiration with regards to the product and its uses. If you were to ask people what TV commercials they remember of Colorbond steel over the years many will reference the undies campaign – where the gentleman goes out the front of his home to get the paper and then gets caught by his neighbours admiring his Colorbond steel roof.
@AuManufacturing: What is the marketing story to businesses who use the brand?
Schillaci: Great question because depending on who you are in the value chain will determine the message you receive. Without going into the detail of the exact messaging strategy for each of the members of the value chain, and there are more than you may think as we operate in a very complex environment.
@AuManufacturing: Colorbond has developed an aura of a high quality, luxury products, how was this achieved?
Schillaci: Colorbond steel is a high-quality product – its technical performance and its design flexibility prove this time and time again. As a company we've created a palette of colours and finishes that are conducive to beautiful design underpinned by the technical performance. People like architects and our customers then use this palette combined with performance characteristics to have an enduring impact on the built environment.
In all honesty as a marketer I consider myself very lucky. At its simplest we are shining the light on the proof points that exist within the Colorbond steel product which provides the emotional and functional benefits for our customers and consumers.
@AuManufacturing: One of the products' positives is the architecture it allows is somehow 'very Australian', and is associated with structures that sit lightly on the Australian landscape?
Schillaci: They are very important because they highlight the design flexibility of the product. I have seen everything from a modern take on a farmhouse constructed using Colorbond steel Matt in the colour Monument to fit organically into the Australia bush landscape through to the most architecturally designed, angular inner city home that when crafted with the right palette looks incredible but fits into the neighbourhood it sits within
@AuManufacturing: How do the products benefit from the association with use by high end architects, ie Pritzker prize winner Glenn Murcutt, and flagship projects, ie Adelaide Oval?
Schillaci: The architectural community are great supporters of Colorbond steel. Their use of the product reinforces two critical elements – credibility and design flexibility. Credibility because even with all of the products they could choose to create with they've chosen Colorbond steel for their project and then design flexibility is evident in the amazing ways they use the product – whether that be colour, shape or profile.
@AuManufacturing: How important is advertising the product in high-end house and garden magazines?
Schillaci: Colorbond steel operates across several segments, one being residential and through our media planning cycle, we look to maximise the reach of the brand within this segment as we do for all the segments, we operate in. These high-end magazines, such as House and Garden, still have amazing readership numbers in an ever-evolving digital world which provide an incredible reach and allow us to provide inspirational and aspirational content to residential consumers whilst also re-enforcing our brand proposition.
@AuManujfacturing: The latest TV advertisement features photographer Murray Fredericks. What is the thinking behind this campaign? How does it reinforce messaging?
Schillaci: The Murray Fredricks campaign was for the launch of the Colorbond steel Matt range, but we are very excited that we have just launched the next iteration of Colorbond steel TV advertisements. The campaign is called "Made by Australia" and as the campaign name suggests, it tips its hat to our Australian landscape and is almost a thank you to Australia for helping us create this amazing building material. We want Australians to know that they have played such an integral part in the brand's success.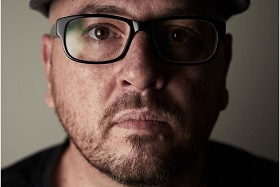 Antony Schillaci has held senior marketing and sales positions at a wide range of companies including BP, Castrol, Veolia and most recently BlueScope. He holds a Bachelor of Business, Marketing from Edith Cowen University.
Pictures: BlueScope/Colorbond Matt/Antony Schillaci

@AuManufacturing's Marketing for manufacturers series is brought to you through

the support of Whyte Public Relations and the Advanced Manufacturing Growth Centre.
Subscribe to our free @AuManufacturing newsletter here.