This is the final day of our editorial series, Marketing for manufacturers. In the second-last article, Tim Kannegieter writes about investing in leadership campaigns for your business.
When I joined Circuitwise three years ago my brief was to raise awareness of the business and for prospects to recognise the superior value of our electronics manufacturing services. The owners felt the company was Australia's best kept secret and were frustrated to see contract manufacturing opportunities going overseas or to competitors when we had not even been contacted to bid on the job. 
Something was needed to make Circuitwise stand out from the crowd and encourage customers to come to us. Significantly, the CEO did not want everyone calling, just prospects with the right profile – companies that were serious about the high quality and reliability of their devices, generally well-established companies that could recognise the value of our services. For Circuitwise, this meant mid-tier companies manufacturing products for use in industries like mining, medical, aerospace and the like.

It was clear from this brief that I needed an inbound marketing strategy – where people contact us, rather than the other way around. I decided to create a content marketing campaign that attracted the attention of the right kind of people and channel this content to places where it would be noticed. The right kind of people could be direct prospects, influencers, or referral partners. 
The main challenge was getting noticed. My content had to cut through the plethora of information available and it had to impress people enough to make them want to contact us.
The solution I adopted was to focus on what is known as thought leadership. Thought leadership is a process that influences through the power of an expressed idea. It goes beyond normal content marketing to take a "position" on whatever subject you are talking about, a position that is thought-provoking and memorable, with the aim of starting conversations and building a relationship.

I first noticed this working as a journalist in the engineering industry. I remember seeing articles from a consulting firm called Aurecon with evocative titles such as "The unavoidable truth about avoiding death". McKinsey & Company was another leader in thought leadership with articles like "The four global forces breaking all the trends". In thought leadership, catchy headlines go beyond click-bait to deliver ideas and content that capture and hold the attention of the audience and this is where the hard work begins. 
The thought leadership approach I have developed is two-fold. Firstly, find your fertile ground – which is at the intersection of your domain of expertise, your target market needs and the core drivers of change in your industry. For Circuitwise's first campaign, we have focused on MedTech manufacturing, the need for quality systems to deliver compliance to the key market driver of increasing regulation. It's no coincidence that this intersection neatly describes one of Circuitwise's key strategic markets as well. 
The second part of my thought leadership model is to find multiple positions along a multi-dimensional spectrum of uniqueness, time and attitude. If your message is about how quantum computing is going to change your industry then you are probably high on the uniqueness spectrum. If you talk about how an industry will be different in 10 years' time you are at the future end of the time spectrum. If you take a principled stand on a highly emotive issue, then you are at one end of the attitudinal spectrum. The opposite end of these spectrums would be to champion the need for something commonsense (logic), about an ordinary but important thing (low uniqueness), to be done urgently (now in the time spectrum), perhaps because commonsense is not common practice.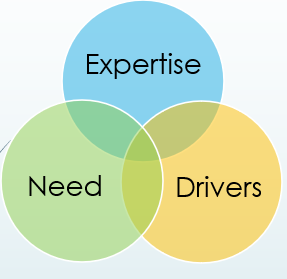 A key point for manufacturers, either B2B or direct to consumers, is that you don't necessarily have to have something truly unique or earth-shatteringly amazing to be seen as a leader. For example, Dove was incredibly successful with its Campaign for Real Beauty with the message that all women are beautiful and their unique differences should be celebrated. This is hardly a unique message but they came to own it and lead the messaging. 
The result for Dove was reportedly a 9% jump in sales over the first quarter of the campaign and a doubling of sales from $2.5 billion to $5 billion over ten years. The product they were pushing was soap. Let me repeat that – soap. If your product is even marginally more sophisticated than soap there is a good chance you can find something to be a leader on as well.
Coming up with leadership positions is both an art and a reproducible process. It helps if you have people in your thought leadership campaign who are both deeply knowledgeable across the subject matter, the concerns of the industry you are targeting and are good at communication. However, generally, it's a team effort using traditional brainstorming techniques to generate lots of ideas, zero in on the ones you think will be most effective, then refining them into clear messaging. You can always hire a good journalist or marketer to help you out with authoring content. 
In my case, I was an engineering journalist for over 15 years so came to Circuitwise with communication skills and complementary knowledge. However, what worked well was bouncing ideas off our CEO Serena Ross who is both knowledgeable about electronics manufacturing and passionate about several topics in the industry. 
For example, when the Covid-19 pandemic first struck we quickly began a campaign around the importance of reshoring manufacturing in the context of supply chain vulnerability and building sovereign capability. As this was a topic of interest to political leaders, we gained the attention of assistants to ministers at a federal level. 
Another obvious topic for us was the role of women in manufacturing, as Serena is one of the few female CEOs in our industry. More recently we have been speaking up about the crippling impact of chip shortages on manufacturing. However, the main focus of our thought leadership has been around the main topics of quality compliance for MedTech. 
We have aimed to generate one significant new leadership position every quarter or so. Usually, the initial article is an in-depth long-form article that is distributed to media and we then link to it via LinkedIn. From that, we can repurpose the core content in several ways, including webinars, blog posts focusing on specific parts of the leadership position, infographics summarising the main message and so on. 
True thought leadership is an expensive exercise, as it usually involves considerable research to provide the depth of knowledge required to be impressive and enough crafting of the messages to be truly helpful. So, in marketing terms, it needs to be thought of in similar terms to branding. No one invests in branding expecting a flood of immediate leads and the same is the case for thought leadership. 
Rather the idea of thought leadership is to support your brand, organisationally, and that of your leaders. Ultimately, being seen as a leader in the field increases your pricing power and helps break free of the competitive race to the bottom. 
There are a few cardinal rules in thought leadership. First, never sell your product or service. The aim is to sell without "selling". The second is to share your knowledge, unreservedly. If people get the sense you are just giving a few tit-bits and you have to sign up to get the rest, the relationship is broken before it even starts.
The virtual loop of thought leadership is the more you share, the more people will want to talk to you, to share their own thoughts, on opportunities and challenges. That is the ideal outcome – invitations to speak and conversations with people in your industry gaining knowledge of their needs and building trust. Certainly, we have been successful in this regard with Serena Ross now regularly asked to present at conferences and panels on topics related to manufacturing. 
The greatest living example of thought leadership in manufacturing today would have to be Elon Musk, who is a leader in multiple industries – "we will not stop until every car is electric". He has a talent for taking provocative positions on a huge range of topics, amassing a Twitter following of nearly 59 million. His tweets have been known to move and shape entire markets.
Most large manufacturers now own their own publishing channels to ensure their thought leadership reaches their audience, including magazines, podcasts, webinar series and even conferences. Have a look at companies like Siemens, General Electric and Caterpillar, as examples. 
At Circuitwise, we mainly use LinkedIn as our key communication platform for both the company and the CEO. However, we also co-founded and sponsor the NSW Active MedTech Community as a way of creating our own audience, with over 30 webinars delivered on topics complementary to the target of our thought leadership campaign, most of them hosted by myself.
For small and medium-sized manufacturers that may view such ambitions as unrealistic, I would suggest starting small. Aim to add the occasional thought leadership piece in amongst your other marketing activities. You will find these pieces generate their own momentum, as they can be repurposed so easily. 
Featured picture: Serena Ross talking to media (supplied)
Dr Tim Kannegieter is the marketing manager for Circuitwise Electronics Manufacturing and Genesys Electronics Design. He is the coordinator of the NSW Active MedTech Community and previously ran the Applied Internet of Things Engineering Community of Engineers Australia. He has 15 years' experience editing a variety of B2B technical publications. He has a PhD in Knowledge Management (KM) and previously ran KM programs for the New Zealand Defense Force and the largest food manufacturer in NZ, Fonterra. He is also leading the establishment of a start-up Genesys Medical Devices.

@AuManufacturing's Marketing for manufacturers series is brought to you through

the support of Whyte Public Relations and the Advanced Manufacturing Growth Centre.
Subscribe to our free @AuManufacturing newsletter here.