Autonomous electric vehicle company Applied EV has been awarded Victorian government support, and expects to welcome 20 new employees to its new Bayswater North facility over the next two years.
The amount of grant funding was not given in a statement from industry support minister Martin Pakula. 
The new facility will support R&D and early vehicle production, with Applied EV preparing for trials by a "major international player" this year.
"We welcome the support from the Victorian Government, which helps take our Melbourne-made mobility solutions to the global market – offering a product that is cost-effective, adaptable to business needs and good for the environment," said CEO Julian Broadbent. 

As reported by @AuManufacturing, Applied EV emerged from stealth mode early this year with new video and pictures of its Blanc Robot system (see below), following a four-year, $7.7 million development project.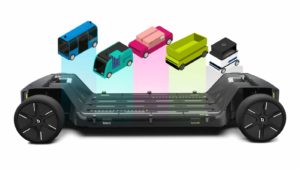 The company's "mobility solution" can be fitted with different "pods" for different applications, with these listed as "goods delivery, agriculture, mining and industrial and waste management, as well as passenger transport."
The platform is programmable and autonomous, and designed for use over short distances at slow speeds. The company's website describes it as "Level 5 autonomous ready".
The company was formed in 2015, and its founders have backgrounds at Telstra and General Motors Holden.
"Innovators like Applied EV are building on expertise gained from traditional manufacturing with advancements in robotics and artificial intelligence to produce revolutionary solutions for now and the future," added Pakula.
Pictures and video: Applied EV
Subscribe to our free @AuManufacturing newsletter here.