Analysis by Peter Roberts
The New South Wales government have ordered close to 2,000 rail carriages and tram cars from overseas in only 10 years, putting the lie to the government's suggestion that it is forced to buy trains overseas, according to a new analysis by the Australian Manufacturing Forum.
According to analysis for @AuManufacturing by estimator Christopher Carter, first a Labor government, and then a LNP government have ordered 1,980 train railcars and light rail vehicles at a cost conservatively estimated to be more than $2 billion.
During the time the state's once-vibrant train construction sectors and their suppliers in the professional design sector and metal and electrical trades sectors have been allowed to wither on the vine.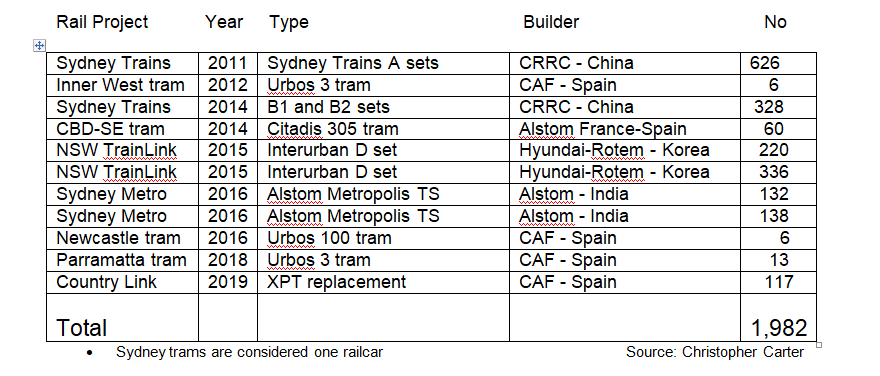 In 2000 NSW boasted major groups well able to manufacture trains as they had for decades – Clyde Engineering in Sydney and Bathurst and Goninan & Co at Broadmeadow in Newcastle NSW. Commonwealth Engineering's (Comeng) Granville factory closed in 1989 after building numerous trains for 70 years.
Yet the industry has been all but destroyed in a chicken and egg fantasy that buying overseas must be cheaper and better.
Only recently premier, Gladys Berejiklian said: "Australia and New South Wales are not good at building trains. That's why we have to purchase them."
Of course – if you don't feed a sector orders, its capabilities and competitiveness dwindles, and companies cannot be expected to be competitive it their local customer refuses to give them orders.
The situation is exactly that when Defence minister David Johnston said in 2014 he wouldn't trust the Australian Submarine Corporation to 'build a canoe.'
Johnston was overlooking the fact that he was responsible for ASC and if it had issues, it was his job and responsibility to fix them.
In the furore that followed he lost his job and a minister for defence industry was appointed who set about including Australian companies, especially small and medium sized enterprises (SMEs), in big defence purchases.
At 2,000 carriages, the NSW government's order book is so huge that blind freddy should be able to create a globally competitive sector on the constant flow of construction orders.
The only possible reason for the state not using its purchasing power to establish a railcar manufacturing industry – as Victoria, Queensland and Western Australia are doing, is ideology, incompetence or sheer laziness by the politicians and bureaucrats that run the state.
One issue is the all encompassing public private partnerships covering construction and maintenance that of late have restricted bidders for NSW train construction to a few global firms who have no patriotic interest in manufacturing locally.
As Carter told @AuManufacturing: " If you are a a manufacturer who cannot get on these big PPP consortiums, you stand no chance of getting shortlisted to supply trains or even perhaps build trains in NSW.
"And I'm sure no one in Transport for NSW has bothered to bypass the PPP middlemen like CIMIC and Downer and said direct to some of these big overseas manufacturers 'can you build here if we build a facility'.
Carter favours a common user facility that could be utilised by successful companies and then be available for future construction work.
Carter said: "If there was a common user fabrication facility at Port Kembla you might even start seeing some steel framed buildings going up around Sydney aside from the favoured reinforced concrete.
"It is far quicker to build a large steel framed high rise than doing the same in concrete."
Today's procurement stance by the government severely disadvantages local Australian owned tier 2 industrial maintenance companies as the big boys farm business off to their industrial services divisions.
The New South Wales situation, when compared to the other states, simply suggests the Berejiklian has simply never bothered to nurture local industry.
Where is her track record of even trying?
It is sheer laziness and that breeds mistakes and an over-reliance on the word of big multi-national companies who no doubt tell the government it is more expensive to make overseas.
More expensive than to make in France? Really?
Hence they have spent $2.7 billion on trains from South Korea that don't fit the tracks and tunnels and $1.5 billion on ferries that don't fit under bridges with people on the top deck.
Really it is about time NSW stopped showering economic opportunity on France and Malaysia and worked to get the job done at home.
Picture: sydneymetro.info/metro train
Data table: Christopher Carter
Subscribe to our free @AuManufacturing newsletter here.