Lockheed Martin Australia's significant contribution to the South Australian economy has been lauded by South Australian Premier, Steven Marshall.
Marshall said the company was key employer in South Australia with its contribution growing as the Federal Government's defence projects ramp up.
"I particularly commend Lockheed Martin for the great work they do for young South Australians and graduates getting their foot in the door in this great industry.
"Lockheed Martin employed 22 new graduates in Adelaide in earlier this year and have another 20 slated to commence in August this year."

Commenting on Lockheed Martin's Economic Impact in Australia report Marshall said the company directly employed 465, contributed $103 million to South Australia's gross state product in 2019, and spent $61 million across 79 South Australian suppliers in 2019.
While 67 per cent of these companies were SMEs, vertical tail fins for the Lockheed Martin F-35 jet global supply chain are manufactured from titanium and composites at BAE Systems' Adelaide facility.
Lockheed Martin also generated $72 million and 760 jobs in total from maritime capability programs, including destroyers, frigates and submarines.
A full copy of Lockheed Martin's Economic Impact in Australia report produced by independent advisory firm AlphaBeta can be downloaded here.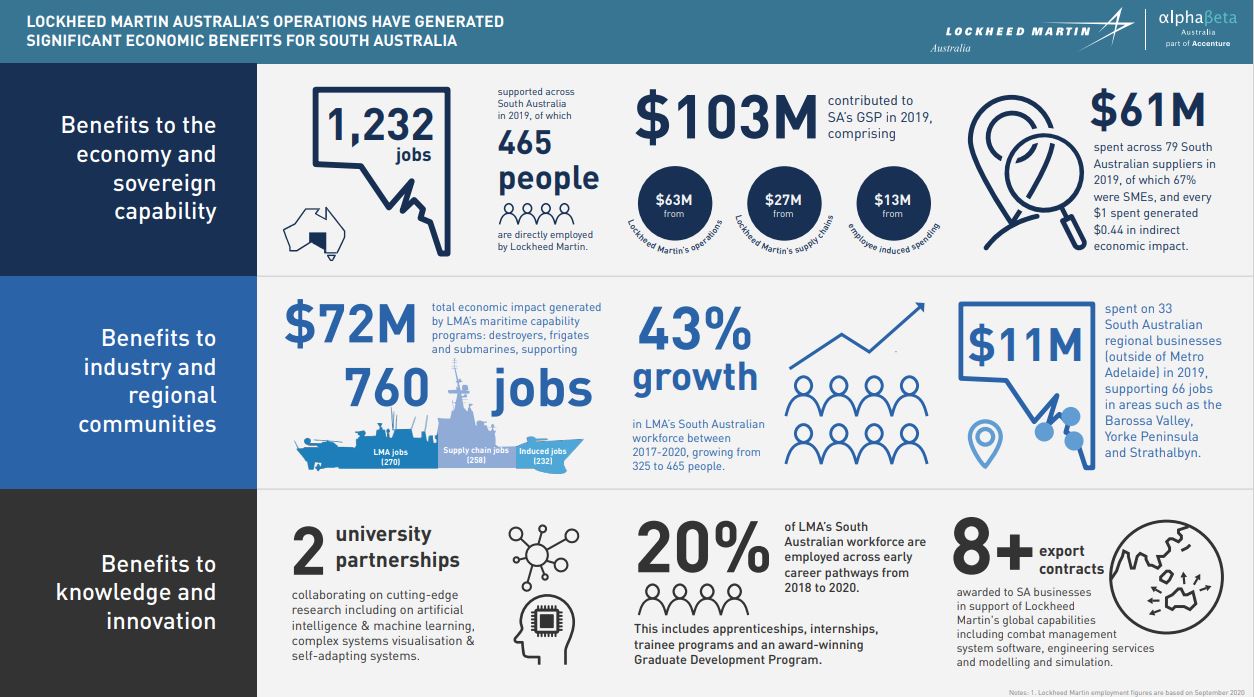 Images: Lockheed Martin
Subscribe to our free @AuManufacturing newsletter here.