The 2020 version of the annual Wohlers Report, tracking the evolution of the global 3D printing industry, has been released.
The report is now in its 25th year, and the current version runs at 380 pages, with input from 129 service providers, 114 makers of industrial machines, and 40 producers of third-party materials and desktop systems.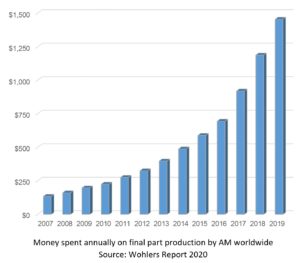 The statement from consultancy Wohlers Associates, the publisher of Wohlers Report 2020, says $US 1.1 billion of investment was made in 77 early-stage additive manufacturing businesses last year. It also claims that the "era has begun where the users of AM are in the driver's seat, pushing boundaries of what AM can achieve in production applications. System manufacturers, service providers, and producers of materials are responding with offerings to match."
Cited is the case this week of Italy's Isinnova, which responded to urgent need in hospitals stretched by the Covid-19 outbreak and printed "many respirator valves in under two days… [with ten patients] able to breathe with the aid of a machine that included the 3D-printed valve."
The statement on the launch does not give the overall size of the market for additive manufacturing machines and related products, services and software. The Wohlers Report 2019 predicted that this would be worth $US 15.8 billion in 2020, growing to $US 35.6 billion in 2024.

More information on the 2020 report can be seen here.
Featured image: valves for connecting oxygen masks to respirators (Cristian Fracassi/Isinnova.)
Subscribe to our free @AuManufacturing newsletter here.