A local metal bending innovation could be the key to more affordable housing, according to FormFlow. By Brent Balinski.
As anybody commercialising scientific or engineering discoveries will tell you, there's generally a bit of time between their emergence and their solving a market need. 
The "wonder material" graphene was first made in a lab in 2004 and hasn't changed the world yet, as an example, though its enthusiasts sometimes point out that aluminium was first created in the 1820s but didn't gain popularity until the next century. Have patience.

Mathematical discoveries from the 1980s on "inextensional" folding of curved sheet — without shearing or stretching it — are today showing their commercial worth in the building sector.
Formflow was established in 2016, applying the origami-inspired technique to corrugated metal for the roofing market, but is now seeing promise in tiny houses and other affordable property.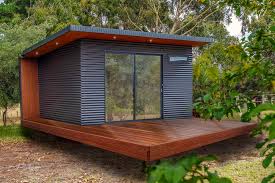 "Initially, it was driven by a desire to see whether the idea would work, really — that was the initial motivation. And it did," Dr Matt Dingle, who co-founded the company with Associate Professor Matthias Weiss of Deakin University and Lyn and Ross George of Austeng, tells @AuManufacturing. 

"And from that, a number of needs that it might address became apparent… We looked at all sorts of things, but in the end settled on housing.
"So it became a case of matching the clever idea with a really fundamental need [of] housing affordability and housing for people, particularly in marginalised groups."
The company is commercialising its bending technology — allowing corrugated sheet to be folded at precise angles without damaging its structure or coating — through a range of low-cost housing modules (made in-house under the FormFlow Living brand) and licensing (through Bluescope's Lysaght division.)
This allows for better insulation when used in wall cladding and roofing, according to FormFlow, removing the need for capping and flashing at joins, and keeping out things such as vermin and embers.   
This week the world-first method will feature in Season 4 of Australia By Design, themed around Innovations.
Dingle says there is a lot of untapped potential in prefabrication, which the federal government believes can potentially be grown from roughly 5 per cent of the construction sector to 15 per cent between 2019 and 2025, creating tens of thousands of jobs.
"We're focussing very much on… steel-based structures, which present a lot more opportunities for automation and also for accuracy. And so we think that we can drive both efficiency and costs down, but [also] increase the quality of a final build," he explains, adding that they are designing for disassembly and reuse, keeping modules or parts of these in circulation without recycling.  
"What we're finding actually is one of the biggest benefits of prefabrication is in the sustainability side."
Last year the company moved from Deakin's ManuFutures accelerator to its own facility at Seabright to scale up production of tiny houses. It went from one production bay to three, and has gone from 39 days to build a module to a current nine (getting to five is a goal.) 
Last month it announced a collaborative project supported by the Innovative Manufacturing CRC's activate program, led by Weiss, establishing an Industry 4.0 production cell. This will trace the shape and material characteristics of incoming steel in real-time, adjusting the bending process accordingly if there are variations in material.
"The whole intention is to turn a construction project into a manufacturing operation," says Dingle.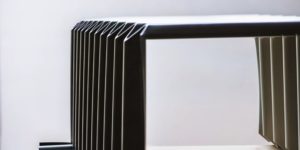 "And so that requires much more control over dimensions and processes, and maximising efficiency."
Dingle says it has a development pipeline of perhaps ten to a dozen new technologies, ranging from different angled bends to a new structural panel concept.
As for the topic of local innovation generally, he is optimistic, offering that we're not short of ideas, even if we haven't been great at commercialising them.
"I think that there are lots of different reasons for that. People will tell you all sorts of things about poor levels of investment and the challenges of trying to go overseas and sell something in a market that you don't necessarily understand," he says. 
"But I just think it's part of a learning experience, and I think as long as there are more and more people who have done that successfully in Australia or people come from overseas who have managed to do that successfully in other countries, our capability in doing that will increase. I think it's as much a cultural thing as anything else."
More on Australia By Design – Innovations (including the episode featuring FormFlow on February 6) can be seen here.
The author is a shareholder in FormFlow.
Pictures: FormFlow
Subscribe to our free @AuManufacturing newsletter here.