Next year b.box will celebrate the 10th anniversary of its first product and release a next-generation version of its sippy cup, an item you've probably seen if you've ever been in a Chemist Warehouse.
Friends Monique Filer and Dannielle Michaels started with a nappy wallet, and have expanded their range to more than 20 products, growing handsomely, exporting to over 20 countries, and picking up awards including the 2016 Telstra's Small Business Award.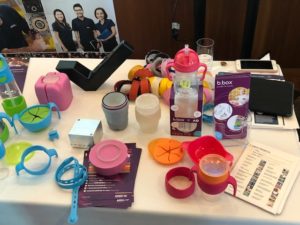 Being Australian has always been a positive for sales in China and other Asian markets, but the benefits of producing here have only recently been considered. They started exploring a bottle harness product before turning their attention, with product development and commercialisation business Evolve Group, to a new and improved version of the sippy cup. This features a 360-degree design, where the pint-sized user can drink, spillage-free, from any point around the rim, rather than through a silicone straw.

B.box's partner Evolve has earned recent attention for its design and manufacture of the Flow Hive product for backyard beekeepers, and for founder Ty Hermans' pursuit of reshoring work. He aims to win $400 million of production back to Australia over the next decade.
The two teams began with a patent and product review. Every 360 cup on the market was tested and ranked for performance.
This was followed by obsessively iterating. A small sample of prototype seals was on display at their stand at a Growth Centres showcase last week. Hermans estimates around 400 – 500 versions were considered. Was a design too thick or thin? Wrongly tapered? Simple to produce? Responsive to the user's efforts?

"It was about how the angle that you have to drink from, and how hard you have to press," Filer tells @AuManufacturing of assessing prototypes.
"Was it natural compared to some of the others? Were they easier to drink from?"
The project includes investing in engineers, robotics and packaging operators. It was supported by a $221,000 grant from the Advanced Manufacturing Growth Centre, and received engineering input from University of Queensland. This included in stereolithography-based 3D printed prototyping, materials selection, and helping optimise part dimensions.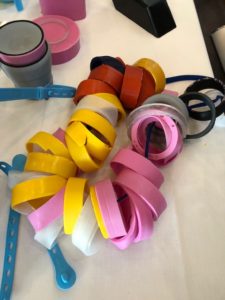 "We're looking at even the packaging design, whether it's how many is going to go on a pallet, how many is going to get onto a shipping container, how is it gonna be received at the other end of the line," he tells @AuManufacturing.
An obsessive focus on every part of design – both for the end product and for manufacture – and every part of the supply chain is vital to producing in Australia, believes Hermans, who says his company's edge is in being a design-led manufacturer rather than a manufacturing-led manufacturer.
Low-cost nations have the advantage of "throwing labour" at a problem, but this is surmountable.
He concedes that making a client rethink every input for production can be "confronting", and has been met with grumbles in the past, even though the client eventually realises what's been achieved.
"I guess it's hard to look at a little project like this, a little plastic cup, and look at it, and think 'that is six to seven hundred thousand dollars worth of development in that?' But when you look at it as a potentially $25 million project, that starts to stack up."
He says electricity is a little more expensive in Australia, but raw materials cost roughly the same anywhere. B.Box and Evolve are chasing volume production of injection-moulded bottles, done more competitively than in China.
In 2019, B Box will also reshore production of their bottle harness and the wallet that launched the company's successful first decade.
Hopefully it'll also launch a proper conversation about how – with the correct approach and a whole lot of design discipline – Australian manufacturers can reshore work.
– Brent Balinski, editor
All images: @AuManufacturing
Subscribe to our free @AuManufacturing newsletter here.