Quickstep Holdings Australia has announced the milestone of 10,000 parts produced for the F-35 Lightning Joint Strike Fighter program.
Quickstep said on Wednesday that the parts represented approximately $250 million of revenues in the last seven years, and supported 170 jobs at the company's Bankstown Airport site. (See graphic below.)
"We are extremely proud of the trust and confidence placed in us by leading global aerospace OEM, the US DoD, and the Australian DoD," said managing director Mark Burgess in a statement. 
"We have built a reputation for excellent delivery, quality, and cost performance and look forward to securing more production opportunities on F-35 and other advanced aerospace platforms."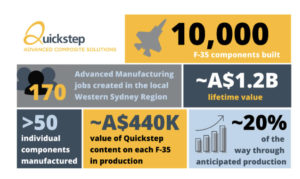 Each JSF flies with about $440,000 worth of content made by Quickstep, which produces over 50 individual components and assemblies for OEM Northrop Grumman, Marand Precision Engineering, and BAE Systems.
Quickstep was founded in Perth in 2001 as an R&D company commercialising a novel out-of-autoclave curing technique. It listed on the ASX in 2005, signed with Northrop Grumman and Lockheed Martin Corporation to manufacture for the JSF in 2009, and moved operations to Bankstown in 2012.
The company also runs a site focussed on R&D at Deakin University's Waurn Ponds campus, and last month announced it would buy the Tullamarine MRO site owned by Boeing Australia Component Repairs for $2.64 million in cash.
Pictures: supplied
Subscribe to our free @AuManufacturing newsletter here.