Our campaign to crowd source a new deal plan for manufacturing highlighted the vital role to be played by onshoring manufacturing operations. In this three-part series, we look at how the re-shoring trend is developing. By Peter Roberts.
In a small factory at Gillman in the heart of a traditional Adelaide industrial precinct, a quiet revolution is underway.
QPE Advanced Manufacturing, part of the Precise Advanced Manufacturing Group, is installing a series of new machines and lifting its sights to attain new levels of quality accreditation as it breaks into new markets in defence and aerospace.
The Gillman factory is rather cluttered with work in progress as machines are rearranged and owner Grant Tinney takes a $1.7 million punt that renewed interest in local manufacturing from customers will translate into future opportunities.
The place is cluttered because right now because he is installing five new large CNC Milling machines with X Axis capacities of between 3 and 8 metres, and an additional large 5 axis milling centre.
Tinney tells @AuManufacturing: "We are bringing work back from China.
"The number one reason is price, what with the value of the dollar being what it is.
"But a contributing factor is a greater level of support from our customers to bring work back."
Interest is strongest from defence customers who know that reliance on extended overseas supply chains is not the way forward in a post-Covid 19 world.
But interest is in areas other than defence – these are the fist green shoots of reshoring that is picking up speed in an Australia that has let itself become too dependent on fragile supply chains, and too addicted to buying at lowest upfront cost without understanding the risks and consequences.
"We added additional rooms to our precision assembly area this week and used the space immediately for assembly of Defence related Work Packets involving hydraulics, electrical and electro-mechanical sub assemblies.
"Further expansion is planned for August as various Naval programs commence…our goal is Leadership in complex machining, assembly and through life support."
Even before Covid-19 the settings were right for reshoring.
Industry 4.0 technologies, additive manufacturing, the industrial internet of things and automation and artificial intelligence have combined to erode the advantage once held by low-cost mass manufacturing operations in Asia.
But until recently examples of reshoring were hard to come by.
One early example was Sydney's Weir Minerals which quickly brought back some manufacturing of its large mining corrosive slurry pumps in response to the end of the resources boom and its associated high Au$ era.
However in recent times there is more evidence of reshoring, not just confined to personal protection equipment, hospital ventilators and hand sanitiser needed to battle the Covid-19 pandemic:
# Seabin has linked with Brisbane-based Evolve Group to manufacture its Seabin floating rubbish collectors in Australia – at the same time replacing steel parts with simpler and cheaper injection mouldings.
# X-Ray equipment manufacturer Micro-X reshored manufacture of the carbon fibre nanotube X-Ray emitter at the heart of its machines, allowing greater control of manufacturing quality and enabling the company to scale-up production during the Covid-19 pandemic.
# Baby essentials company, b.box reshored manufacturing of their award-winning sippy cups to Queensland.
# steel pallet, stillages and trolley products manufacturer Trafalgar JNI Pallets Systems reshored Series 90 pallet cage production for a government customer.
Some in industry are tireless workers for reshoring.
Ty Hermans Evolve Group aims to win back $400 million of work over the next decade from overseas suppliers, including those simple plastic bottles.
Gregory McGarvie's ACE-EV Group is working hard to increase the Australian content in its ACE Cargo electric van – currently imported in parts.
And Patrizia Torelli, the indefatigable CEO of the Australasian Furnishing Association, is working with a handful of companies looking to replace imports with Australian Made.
It has become clear in Australia as in other developed countries during the Covid-19 pandemic that too much of what we deem essential has been made overseas.
The job creation value of reshoring is highlighted by research from the United States' Reshoring Initiative. According to the group's data, nine-tenths (171,000) of all new US manufacturing jobs created in 2017 were the result of reshoring.
However so far the trend in Australia is more a trickle rather than a flood, partly as Australia does not have the cheap energy advantage and slack environmental regulations that is driving much of America's reshoring.
Still there are business advantages to be had. Manufacturers understand that the extended supply chains that go with offshore sourcing add risks that need to be taken into account, risks that were highlighted during the pandemic.
The risk of shipping delays or some crisis domestic or international can cut off the flow of products, intellectual property may not always be protected in some low-cost locations, quality can be better monitored and maintained with local supply, and local suppliers can simply react far more quickly than overseas competitors.
Industrial textile manufacturer Geofabrics is pioneering a different sort of reshoring with the launch of a recycled version of its popular bidim nonwoven textile used extensively in construction and infrastructure projects (pictured below).
bidim Green is the first locally made geotextile that includes Australian sourced recycled plastics, according to Geofabrics Australasia CEO Dennis Grech.
"Our customers now have a green, sustainable and Australian made geotextile in addition to our Megaflo pipe range that is also Australian made and made from 100 per cent recycled Australian plastics."
Manufactured in Albury, NSW, bidim geotextile was historically manufactured with polymer sourced from offshore markets, and bidim Green will replace between 500 and 1,000 tonnes of imports with Australian sourced recycled plastics.
"(This is a) significant contribution from an Australian manufacturer to utilise Australian sourced recycled materials and "re-shore" imported, non-recycled product into an Australian sourced recycled product source.
"The significant volume of recycled Australian plastics expected to be drawn down in the first year post launch of bidim Green will create and strengthen an Australian recycling supply chain.
"Bidim Green will provide the plastics recycling market with volume and mature Australia's capability in plastics recycling."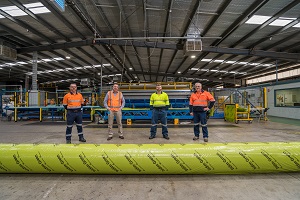 See also:
Reshoring depends on total rethink of manufacturing's role by Peter Vaughan
How one Auckland company has survived to fight another day
@AuManufacturing's series on reshoring is brought to you with the support of industrial scale additive manufacturer, Titomic.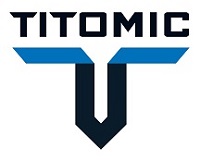 Pictures: QPE Advanced Machining (main)/Geofabrics bidim geotextile
Subscribe to our free @AuManufacturing newsletter here.