Brent Balinski spoke to officials from Singapore's science and research agency about collaborative R&D approaches at one public/private centre focussed on advanced manufacturing. 
The figures and words on the LED ticker move along steadily, a reminder to those on the floor that this is a place where things are getting done.
"Total ongoing projects: 128."
"Completed FY19: 66."
This factory in Singapore's Jurong Innovation District is a public-private collaboration, led by Singapore's A*Star (Agency for Science, Technology and Research) and Nanyang Technological University. 
The Advanced Remanufacturing and Technology Centre is a place for interested companies to explore cutting-edge equipment before they invest, as well as to – for a fee – partner up with public researchers to develop new technologies. Its factory floor is not for commercial production, but for the development of new processes to help members gain a competitive edge.
There is a red LED ticker. There is no blue sky.
"We do not do research for research's sake," Dr Hazel Khoo, Executive Director, Science and Engineering Research Council, A*Star, tells us.
Khoo's agency plays a big part in Singapore's industrial aims. Four-fifths of its 5,000-person payroll are researchers, engineers, or technical support staff. 40 per cent are from overseas. 
The agency is in service of four domains of competitive strength identified in the Singaporean Research, Innovation and Enterprise Plan, which runs from 2016 – 2020 and was originally budgeted at S$19 billion. Programs to bolster advanced manufacturing and engineering were allocated S$3.2 billion of this.


Manufacturing is a strong economic contributor within the city-state. It employs roughly half a million of the 5.6 million population, and contributed 21.4 per cent of a S$487 billion GDP last year. There is a stated goal of keeping this contribution above 20 per cent.
Pull not push
ARTC was officially launched in 2015, and links its three tiers of members with public researchers. It is one pocket within the A*Star universe dedicated to keeping manufacturing relevant. It has around 280 staff, with 55 PhD students and interns, and focusses on six technology themes, including the industrialisation of additive manufacturing, data-driven surface enhancement, and advanced robotics. 
"We focus uniquely on TRL [technology readiness level] 4 to 6. 1 – 3 is the domain of the universities, and 7, 8, 9 is the companies themselves. We focus on the valley of death," explains Dr Bertil Brandin, Strategic Development Director at ARTC.
"We take these technologies only if our members are interested in developing them already. So we pull them. We have an end user in mind already, so the success rate is much higher than just having someone push."
Each project lasts six to 12 months. If an industrial problem needs more time, then it's a job for another cycle, presumably as long as it's still within TRL 4 – TRL 6. One collaboration mentioned has been through five such iterations.
There are 77 multinational companies that have invested in the first tier of membership, 27 solution providers/integrators in tier two, and 33 SMEs at the third subscription level. Annual fees are $S400,000, $S75,000 and $S5,000 respectively.
Collaborative projects are focussed on three areas: aerospace, heavy machinery and precision engineering, and fast-moving consumer goods. 
Linking big and small business
Khoo claims that levels of trust in such government-run programs from Singapore's SME sector are high, and a large effort has been spent by A*star on reaching this audience. 
"Only a small segment are ready to explore new technologies… We work in a very targeted manner to bring these companies along the way, and through creating awareness we want to bring the second and third layer along, by creating success stories," she says. 
"In terms of trust, we have a research institute called the Singapore Manufacturing Technology Centre. They have been working very closely with our local SMEs, and through that it's been a journey of some 15 – 20 years, but that level of trust is very strong."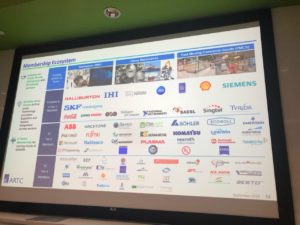 Local SMEs involved in projects at ARTC mightn't pay as much as Halliburton, Siemens or Coca-Cola, for examples, but they also have fewer voting rights on which projects are pursued. 
"They can get together and say 'Hey, you and you and you, we can get together and have ten votes,' however, their main incentive is to help the larger companies and then get the contract afterwards, because if we develop a solution and this goes to market, we are not the organisation that brings it to market," explains Brandin.
"Their interest is to support the solution of the larger companies in a way that is compatible to their direction."
He adds that a budget is known at the beginning of the year – based on the subscriptions that come in – and then potential valley of death escapees are voted on. Any IP developed is owned by ARTC and licensed royalty-free to the relevant members.
Our hosts do not talk in detail about successful case studies, but the tour includes a mention of Rolls-Royce's collaboration with Singapore Aero Engine Services, which has examined automated batch spraying of protective coating on engine fan blades. A further $S8 million investment was recently made by participants, on top of an initial $S60 million made in 2017.
Also touched on is work with local company AmpTech Industrial Innovation, which has benefited from research on robotics applied to industrial cleaning with dry ice blasting.
Divide and conquer
Singapore's overall economic success has been in the news here lately. This month it topped the World Economic Forum's Global Competitiveness Report, leapfrogging the United States.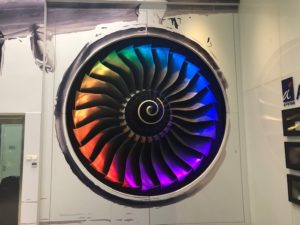 As reported by @AuManufacturing and others, Australia performed dismally in recent results for Harvard's Atlas of Economic Complexity, falling from 57th to 93rd between 1995 and 2017. Singapore? It came in fifth, behind only Japan, Switzerland, South Korea and Germany.
As The Australian Financial Review noted in an article on these results, titled "Australia is rich, dumb and getting dumber", our resources blessings have helped make us the world's eighth-wealthiest nation, though we have an export profile similar to Angola's. Conversely:
"In the 15 years to 2017, Singapore – a nation with no natural resources apart from human capital and proximity to big markets – expanded into 19 new global industries that generated $US14.4 billion ($21.3 billion), or $US2560 per resident. They include gas turbines, x-ray machines, synthetic rubber and imitation jewellery.

"Over the same period, Australia broke into seven new products in a meaningful way, according to the Harvard database: precious metal ores, ammonia, rare earths, activated carbon, hydrochloric acid, scrap rubber and wax residues. The value per Australian: $US33."
It's generally tempting to look at successes and think "what can we copy?" It's also difficult to think of Australian politicians "intervening" and "picking winners" in the way Singapore has. Politically, there is a galaxy of differences between the two countries. Also, innovation does not appear to be a word that excites the average voter here.
But what can we learn from the ARTC, whose ticker has probably been updated since this publication visited at the beginning of the month? 
Maybe it's the importance of focus – something important for solving any significant problem. Of 440 projects undertaken since the beginning, only a "very small" number have failed, says Brandin. Vital to this have been short timeframes and well-defined goals.
"You divide and conquer to make sure you can tackle that problem; we cut it into small pieces and make sure that if we do fail, we fail very quickly," says Brandin.   
@AuManufacturing travelled to Singapore as a guest of SingEx Exhibitions, ahead of this week's Industrial Transformation ASIA-PACIFIC 2019 event. 
Subscribe to our free @AuManufacturing newsletter here.