Brent Balinski
As anybody who has tried to do it knows, there's a lot of tough work and frustration between accessing a scientific breakthrough and turning it into commercial success.
On Friday an audience of NSW MPs and media at Tomago heard about the progress Lavo has made since launching in October 2020 — armed with novel metal hydride powders developed by UNSW researchers — as well as some of its headaches.
Hydrides have been around since WWII, the company explained, but its foundational technology can store remarkable amounts of hydrogen and promises home energy storage with durability vastly better than a Tesla Powerwall.

"We're not using any rare earth metals. There's no precious metals, there's no toxic material. And most of that [could come] straight from the ground in Australia," Lavo COO Jacques Markgraaf told @AuManufacturing, adding that though its powders were currently imported from the US, they can easily be made here when demand scales up.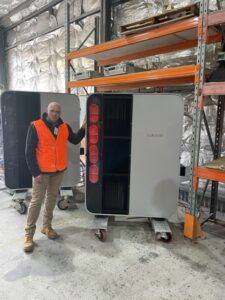 "There are other hydrides out there. Some you can only use once; ours we can use circa 30,000 times," added Darren Jones (pictured), the company's Technical Director Product Deployment.
The company says its systems could therefore allow a household to store and use solar energy via hydrogen for up to 30 years. And unlike batteries, the hydride can be easily recycled. Treat it in a furnace, and it can be restored. 
"Lithium ion batteries – I mean if you talk to Telstra and they use… the best batteries in the world, they're changing them out after three years at the moment," said Jones.
According to Lavo's chairman Henry Sun, it has received $65 million in pre-orders from over 40 countries for its first product, a 40 kilowatt hour home energy storage system. This is priced at about $30,000 and integrates four containers with Lavo's hydrides, a water splitter, water purifier, lithium ion battery storage and software.
"We couldn't make it," shared Sun. 
"We're limited by supply chains, we're limited by regulation, approvals, [those] barriers." 
Fifteen months in, the really big hurdles are not technical so much as unsexy stuff like plumbing and other kinds of certification. Every state has different laws, so there is a demo unit installed in South Australia, NSW, Queensland, WA and Victoria. 
"That's to help state bodies to be able to go and look at it to make assessments," said Jones.
"In the absence of a standard we can certify against, we have to do a much… slower safety case approach, with GHD our engineering partners to get the electrical certification, a safety case done, local approval, site approval, WaterMark…" Markgraaf added.
Development work is being assisted by Varley Group, whose site the event is held at, and which is aiding with the operation of the units, their manufacturability, and assembly. Ampcontrol, another Hunter business playing a starring role in the region's renewables industry, is helping with electrical, electronic and software.
(Lavo is also building a factory in Springfield City in Queensland.)
Lavo has received backing from Gowings Bros, GHD, Providence Asset Group, UNSW and others. It has also been awarded grants from the NSW Regional Jobs Creation Fund, the Queensland government and the Advanced Manufacturing Growth Centre.
There is no shortage of support from customers, either. According to Markgraaf, orders for  utility-scale solutions total over a billion dollars, as mine sites look to decarbonise their operations, solar firms seek storage onsite, and telco companies attempt to move off diesel at approximately a million locations worldwide.
Development on larger-scale systems runs in parallel to home storage units. A 12 megawatt hour, modular "EOS" system for solar and wind farms is based on a 40-foot container footprint. Four storage units fit in a container, cumulatively storing a tonne of liquid hydrogen.
According to Jones, making these in bulk will fit right into the regional reinvention that his company is a part of. 
"When you start to see the vision of the CNI, remote area and utilities, the Hunter region is absolutely well-positioned for it," he said. 
"Containerised, purpose-built rooms that can be pre-commissioned and sent to large, controlled industrial-style sites is core business for the Hunter."
Subscribe to our free @AuManufacturing newsletter here.