In the second day of our editorial series — Saving through smarter energy use — we speak to electric vehicle charger startup EVOS about what they think the EV industry is missing. By Brent Balinski.
It has been a relief to finally be able to talk about EVOS after 12 months, say the ex-Tritium trio that announced the company's 1.7 million seed funding round last Thursday.
"We've just had a lot of people get in contact and congratulate us and say they're very happy for the investment round, but also the fact that we've been able to come clean," CEO Marcelo Salgado tells @AuManufacturing.
The charger and software startup says the EV revolution is underway, but while there's a glut of apps and ideas focussing on payments, there's a shortfall when it comes to things like energy management and insights.
"The transition to electric is the first step, and actually understanding how you use your energy is probably the bigger question: how the energy gets to the site, how it gets to the vehicle, and how the vehicle is managed," Chief Experience & Innovation Officer Seshan Weeratunga tells us. 

Salgado and Weeratunga were most recently Chief Sales Officer and Chief Digital Experience Officer at Tritium, which is expected to be worth roughly $2 billion Australian dollars when it lists on the NASDAQ. CTO Chris Crossman was most recently Principal Software Engineer at Boeing Defence Australia.
The team plans to hire nine engineers in the next 12 months as the company moves from the prototyping to commercial phase, at which point it also aims to offer an energy-as-a-service option as well as outright ownership of chargers.
They never planned to assemble equipment in-house — learning to do this at the same time as everything else would be too onerous — but are enthusiastic about having a locally-made product
The only major part of their supply chain sourced overseas — charging cables from Phoenix Contact — is from Germany, and only because there is no local producer.
They have just chosen an injection moulder in their city, and say most of their suppliers are Queensland-based.
"It just blows our mind," adds Weeratunga of how expertise they could source locally, before adding that they are pretty much "farm-to-plate" with a laugh.
Their main manufacturing partner, Circuit Solutions, is literally next door. CS's parent company, cruise control specialist Autostrada, is a backer in their seed round, along with an unnamed ASX 100 company.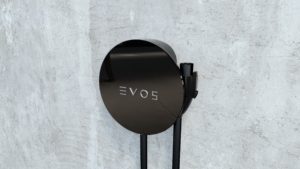 The team sees a definite place for fast DC delivery — with Tritium's success pretty good proof of that — but are producing AC chargers, motivated by research showing most charging is done at work or home, over maybe eight to ten hours, rather than in a hurry on a highway.
Along with two kinds of planned charger, their software (named Smart Start, and which they say is patent-pending) handles things such as authenticating a driver without a card or app, installation, and managing driver reimbursement for fleet managers. EV fleets are a growing opportunity, with the company citing state government targets such as 400 new vehicles by the Victorian government by 2023, and all-electric fleets by the SA and Tasmanian governments by 2030.
There are also analytics based on energy used and spot prices, aimed at powering vehicles at the most economical rate over a long period.
"What we're trying to do is get data from how the power gets to the charge point, how our charger delivers energy to the vehicle, but also how the energy is used in the car," explains Salgado
"Once we start collecting data in those three areas, we can add intelligence… to use that energy most efficiently and also buy energy at the best possible price."
"We really firmly believe if we can maximise the benefit of the EV the uptake will be accelerated. And the best way to do that is to actually reduce the cost of energy. Because [with] a lot of the things we're doing, our customers [at Tritium] were spending more money on the infrastructure than the actual hardware."
Salgado believes a lot of entrants to the charging market are not making EVs easier to use, and this is part of their motivation: drivers have to select software and hardware, owners have to go through too much hassle to get equipment installed and maintained, and there are other bits of friction by needing to add perhaps multiple apps to use a service.
They will be chasing Asian markets as well as the local one early on. They see production here as a benefit, and speak highly of the benefits of responsive, close-by suppliers. Against outsourcing, a startup would be "crazy" to not consider making their product here, believes Weeratunga.
"I think Australia has a great opportunity to be a high value manufacturer for Asia. With my dealings over the last couple of years, people do love doing business with Australia, they respect and understand that Australia has a high grade of quality in design and engineering," says Salgado. 
"I would encourage other manufacturers to explore opportunities in Asia."
@AuManufacturing's editorial series – Saving through smarter energy use – is brought to you with the support of SMC Corporation.