Today's food byproducts will be turned into tomorrow's fashion items if Nanollose is successful. Brent Balinski spoke to the company's co-founder, Dr Wayne Best about fibres from fermentation, selling the first commercial garment made out of microbial cellulose this year, and why the growing waste-to-value movement will bring new challenges to companies like his. 
At the beginning of 2020 there was a noticeable trend of apparel companies announcing commitments to various sustainability initiatives, for example Adidas's pledge to use recycled polyester in all products by 2024 (and eventually have all its shoes be biodegradable) and Zara's goal a few months before for 100 per cent sustainable fabrics by 2025.
The pandemic appeared to sap some of the momentum, but the sustainability wave will pick up again as life returns to normal.

This is the hope of Dr Wayne Best, Executive Chairman at "tree-free" cellulosic materials company Nanollose. It began 2020 with a collaborative agreement with Grasim Industries, part of Indian conglomerate Aditya Birla Group and one of the world's leaders of rayon, an industry estimated at roughly $US 14 billion. 
The ASX-listed Nanollose began 2021 with the announcement of a joint patent filing with Grasim on a method to produce a lyocell version of the nullarbor fibre, a drop-in replacement for the tree pulp-derived material and made instead out of fermented food waste.
"I'd be very disappointed if it wasn't this year," Best tells @AuManufacturing about selling the first commercial garment made out of nullarbor.

"Assuming that we don't have any resurgence of [lockdowns like last year]… We hope to have our first pilot spin and some fibre to play with by mid-year. That'll give us some samples to take to some of the fashion brands we've already been speaking to… They're aware of what we're doing and are waiting for nice samples of fabric to see what they can do with it."
Nanollose was formed in 2014 to commercialise microbial cellulose-derived materials, which co-founder Gary Cass (who has since moved on) first noticed as a leathery substance floating in a spoiled batch of wine he made in 2006. It listed in 2017, and has developed nullarbor and another product called nufolium, designed for nonwoven textiles such as personal wipes, a market estimated to be growing at 5.6 per cent to be worth $US 23 billion in 2025.
Rayon is the first in its sights, followed by the much larger cotton and synthetics sectors.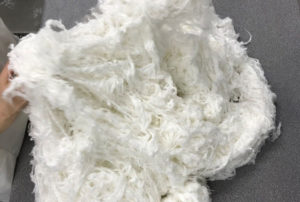 According to the company, its lyocell product is finer than silk and stronger than regular lyocell, as well as produced using fewer chemicals and less water, requiring less land to farm, and not contributing to deforestation like wood pulping does.
The bacteria used to ferment food waste (they are currently working with coconut water byproducts) have not needed genetic modification, says Best, and are adaptable from one feedstock to another. 
"The bacteria sort of modify themselves quite rapidly to adapt to whatever environment they're in: you can change them to eat one waste or another waste," he explains.
"Initially, they might not be doing as well, but before long they're happily chewing away on the carbon source that you provide and converting that into cellulose." 
He expects the company's business model will change over time as yields and volumes increase — it is making cellulosic material in the tonnes, with Grasim turning this into fibres. It is currently in talks with fashion labels, which would then source fibre, yarn or textile from Grasim.
"But I think once we start getting scale, then it'll be more Grasim's role to start monetising that, so it'll change over time. And that's because it's only got a couple of tonnes. That's nothing to Grasim," he adds of their toll manufacturer. 
"What are they going to do with a couple of tonnes? But a couple of tonnes to us, knowing the high-end fashion brands that we know, it's a whole different ball game. So it will be an evolving kind of process."
Logistics are also a work in progress. There is the option of having fermentation at a food manufacturer, with the waste processed onsite and the cellulosic material trucked away, or of having a regional depot for agricultural and other waste and processing there. 
A fibre plant at a food manufacturer's factory, for example, would probably not work due to the capital costs. 
Best also sees it as unlikely that fibre would be produced in Australia.
"To my knowledge, there's no fibre producing plant in Australia… Possibly, there's some people in Australia who could convert that into fabric," he adds. 
"I think a lot of that work would happen overseas, to be honest, simply because of the cost of labour here, the industry seems to have already died down here, but I guess that's for others to decide."
The chairman also says he expects the company will have to adapt due to the burgeoning waste-to-value movement in Australia and elsewhere. 
What waste is is currently being redefined. And while competition for today's resources is inevitable, there could be competition for tomorrow's waste. 
To pick food waste alone, in the last year this website has spoken to companies who are creating products and extracting value out of unloved produce, crustacean shells, and crushed wine grapes.
A lot of companies are looking to use what they used to throw away, says Best, for example by fermenting biomass to create their own energy. 
"I suspect over time this won't be considered waste at all, but by-products that they can extract value from," he says. 
"One of the concerns we have over time is that what's available now is waste. At some point, people may want some money for it, and they might realise that you can actually extract value out of these things and we might be competing with other types of technologies." 
Pictures: Nanollose
Subscribe to our free @AuManufacturing newsletter here.